Barbara Powers
Who was the most influential person in your life? Why?
My father.  Everyone that knows him, knows why.  He exemplifies honesty, integrity, hard work and above all that, his family is always first.  He has a strong faith that he doesn't preach with words, but lives his life in such a way that makes it apparent.  He is the rock of our family, with a wonderfully sensitive side.  I love him so much and was blessed to share this office with him for 35  years.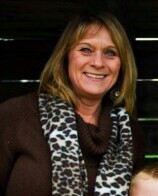 What do you like on your pizza?
Canadian bacon, beef, fresh mushrooms and olives and fresh sliced tomatoes.
Have you ever gone camping? What'd you think?
That it is wonderfully dirty.  I love the coffee around the campfire early in the morning.
What was your favorite TV show growing up?
I LOVE LUCY
What's the coolest experience you ever had?
Giving birth to my 2 daughters
---
Need an insurance quote? Get in touch!
Access quotes from Oregon's most trusted insurance carriers. It's comparison shopping at the click of a mouse.